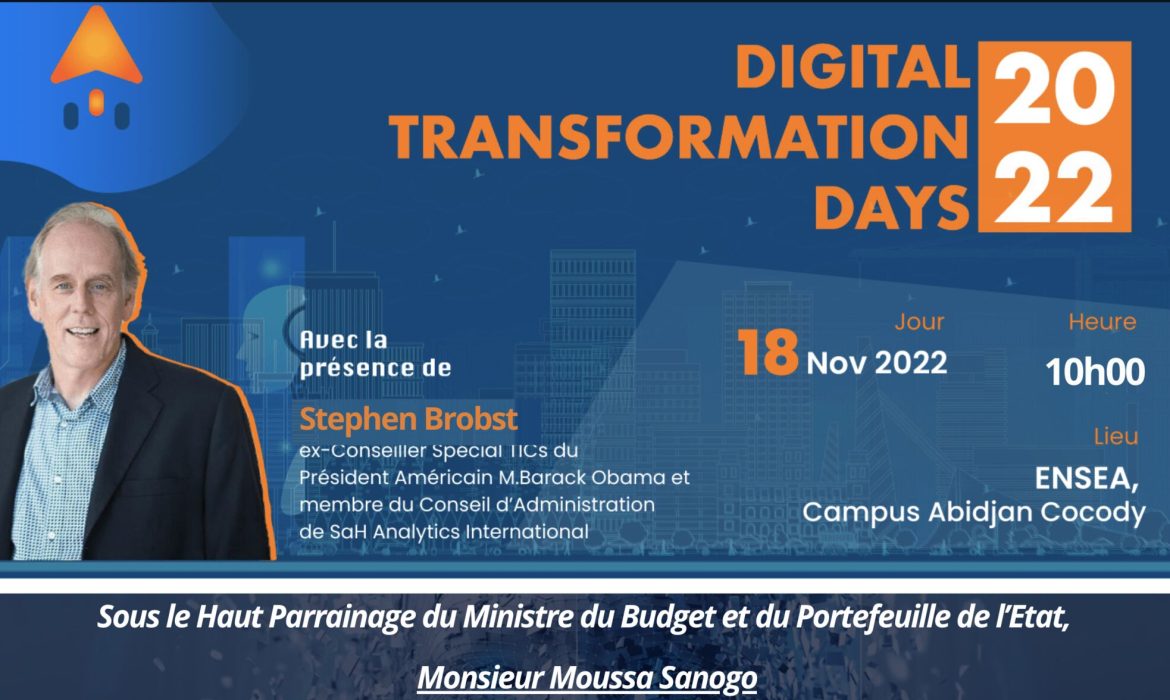 DIGITAL TRANSFORMATION DAYS
Under the High Patronage of the Minister of Budget and State Portfolio, Mr Moussa Sanogo, and with the partnership of the ENSEA school, the 2nd edition of Digital Transformation Days was held, the annual event organised by SaH Analytics, the leader in Artificial Intelligence and Machine Learning in Côte d'Ivoire.
The event took place in the amphitheatre of the Ecole Nationale Supérieure de Statistique et d'Economie Appliquée ENSEA, with the participation of the Ministry of Budget and State Portfolio, experts in the field, and ENSEA Mathematician / Statistician students, future Data Scientists.
The event was divided into several phases;
👉 The intervention of the Minister of the Budget and the State Portfolio Mr Moussa Sanogo, former ENSEA student, who motivated the audience on the importance of data, engine of forecasting trends for a sovereign State.
👉 President and CEO of SaH Analytics Mr Yaya Sylla, who explained the role of a data scientist, who is first and foremost a good mathematician and statistician whose data quality depends on their expertise.
👉 Mr Stephen Brobst impressed the audience with his theme: "Big Mistakes to Avoid When Performing Advanced Analytics", explaining the mistakes to avoid when processing data and how to be innovative in the process.
This was followed by the final of the SaHackathon 2022, launched in August 2022. 3 groups formed over several months on advanced analytical technologies, Graph Theory, and Cybersecurity, proposed innovative projects based on artificial intelligence, Machine Learning, and cybersecurity.
SaH Analytics would like to thank his Excellency, Minister Moussa SANOGO, for the trust he has placed in us. Our common ambition is to train an elite of local champions in advanced analytical technologies.
We would also like to thank our partner, the ENSEA school, which promotes excellence and trains the leaders of tomorrow. Hugues K. Nathaniel GBENRO
Finally, we would like to thank our prestigious Jury for closing the SaHackathon 2022 Mebeti Dosso Gertrude KONE KOUASSI Efua Johnson-Missainhoun and Dr Yao Eric.
FORMATION DATA SCIENCES & MACHINE LEARNING
👉 Training organised by SaH Analytics International in collaboration with the Ministry of the Budget of the Ivory Coast.
The aim of this training course was initially introductory in nature, focusing on three modules: Data Analysis & Visualisation, LBCFT and Personal Data Awareness.
Secondly, to provide assistance and familiarisation with the various software packages used for Data Analysis & Visualisation.
La Case Numérique de Sinématiali hosted this training course, which took place from 18 to 22 October 2022.
We would like to warmly thank the Ministère Du Budget for their confidence in SaH Analytics International.